Semacon Bill Counters
View all Semacon Bill Counters
The Seamcon line undergoes extensive quality assurance testing, and each unit inlcudes a one year replacement warranty.
---
Current Shipping Lead Time for Bill Counters is Approximately 4 Weeks
Featured Semacon Bill Counters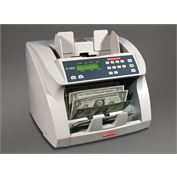 List Price: $975.00
Our Price: $

855.00
Savings:

$120.00

(12%)
Free Shipping
This item qualifies for free shipping
The S-1600 V Value Currency Counter features heavy duty construction great for high volume environments such as banks, credit unions, casinos, and retailers. These counters offer high speed counting at up to 1800 banknotes per minute. The 1615 model includes ultraviolet (UV) counterfeit protection, while the 1625 model includes both UV and dual magnetic (MG) protection.

The 1600V series features a value counting mode which enables the unit to count in dollars and to total a cash drawer. Please note that this unit cannot count a stack of mixed bills.
Top Selling Semacon Bill Counters
View all Semacon Bill Counters