General Bank Supply
Featured Product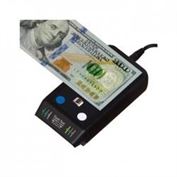 List Price: $69.99
Our Price: $

49.99
Savings:

$20.00

(29%)
This counterfeit detector is intended for use right on your counter in any point of sale environment or wherever you receive cash. The Flash Test Counterfeit Detector is the most compact, user friendly detector available!

This unit tests US currency for watermark, ink, and UV features. Smaller than most smartphones, this detector can easily sit at any cashier or teller station without taking up valuable space. Testing multiple bills in seconds, this easy to use, highly effective unit can protect you against loss from accepting counterfeit bills.

Dimensions: 2-1/2" W x 4-7/8" H x 3/4" D
Weight: 2.5 oz





Top Selling Specials
Plastic - Meets all Fed. Reqs.
Top Selling Products
Flat Bottom 10 oz Canvas Duck Coin Bags

Built with solid precision-molded plastic, this compact organizer fits easily in purses, pockets, glove compartments, or drawers

(Shotgun) - Brown Kraft Cartridge Coin Wrappers - Meets all ABA standards. Penny, Nickel, Dime, Quarter, P

Currency Straps, ABA Color Coded. 1000 Bands per shrink wrapped bundle.

Protect important documents allowing the ability to be identified at a glance

Quickly signal status of locks. Product is available in multiple colors.