General Bank Supply
Featured Product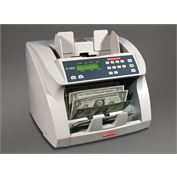 List Price: $975.00
Our Price: $

749.00
Savings:

$226.00

(23%)
Free Shipping
The S-1600 Series Premium Bank Grade Currency Counter features heavy duty construction great for high volume environments such as banks, credit unions, casinos, and retailers. These counters offer high speed counting at up to 1800 banknotes per minute. The 1615 model includes ultraviolet (UV) counterfeit protection, while the 1625 model includes both UV and dual magnetic (MG) protection.
Top Selling Specials
Discontinued size available only while supplies last!
Top Selling Products
Flat Bottom 10 oz Canvas Duck Coin Bags

Flat - 1000 per package -single denomination

(Shotgun) - Brown Kraft Cartridge Coin Wrappers - Meets all ABA standards. Penny, Nickel, Dime, Quarter, P

Currency Straps, ABA Color Coded. 1000 Bands per shrink wrapped bundle.

Plastic - Meets all Fed. Reqs.