General Bank Supply
Featured Product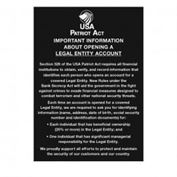 List Price: $37.38
Our Price: $

27.50
Savings:

$9.88

(26%)

Get Ready for the May 11th Mandatory Patriot Act Changes!

The U.S. Department of Treasury issued new rules under the Bank Secrecy Act. Under the final rule, covered financial institutions will be required to implement procedures regarding beneficial owners of legal entity customers opening new accounts.
Top Selling Specials
Currency Straps, ABA Color Coded. 1000 Bands per shrink wrapped bundle.

Discontinued size available only while supplies last!
Top Selling Products
Flat Bottom 10 oz Canvas Duck Coin Bags

(Shotgun) - Brown Kraft Cartridge Coin Wrappers - Meets all ABA standards. Penny, Nickel, Dime, Quarter, P

Plastic - Meets all Fed. Reqs.

Plastic - Meets all Fed. Reqs.