General Bank Supply
Featured Product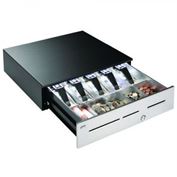 List Price: $530.00
Our Price: $

295.00
Savings:

$235.00

(44%)
INNOVATIVE DESIGN FOR CASH HANDLING IN LOW-LIGHT ENVIRONMENTS!

The PayVue Illuminated Cash Drawer features an integrated LED light designed to improve accuracy, enhance speed, increase loss prevention tactics, while maintaining the right atmosphere. The LED light is strategically focused on the cash drawer contents. The light source is energy saving, only turning on when the cash drawer is open; secondary switch with ON/OFF operation for daytime use. This drawer also features three media slots and a large under till storage with adjustable dividers, along with a 5 bill/5 coin tray. This drawer is ideal for restaurants, bars, and night clubs.
15" x 4-1/2" x 16-3/4"
Top Selling Specials
Quick and convenient way to sort, store, and count loose coins. Solid precision-molded plastic tray holds all US coin denominations.

A cost-effective, simple, and quick way to check for suspect counterfeit bills. Sold three pens per pack.

Features a unique shape that provides finger comfort. Sturdy, adhesive-backed square-style base mounts easily to any clean, flat surface.
Top Selling Products
Flat Bottom 10 oz Canvas Duck Coin Bags

Flat Bottom 10 oz Canvas Duck Coin Bags

Flat Bottom 10 oz Canvas Duck Coin Bags

Flat - 1000 per package -single denomination

Built with solid precision-molded plastic, this compact organizer fits easily in purses, pockets, glove compartments, or drawers