Semacon Money/ Currency Counters
View all Semacon Money/ Currency Counters
Featured Semacon Money/ Currency Counters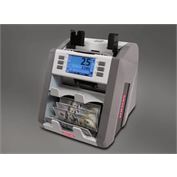 Add to basket to see price

Why?


The manufacturer does not allow us to show you the price unless you add the item to your basket.

You can remove the item from your basket if you decide not to purchase it.
Free Shipping
Two Pocket Currency Discriminator has the ability to sort and count mixed denominations. Includes advanced counterfeit detection, subtotaling, and batch stop setting. This two pocket discriminator will automatically sort an incorrect denomination into a separate pocket, allowing the user to program the bill denomination and walk away.
Top Selling Semacon Money/ Currency Counters
View all Semacon Money/ Currency Counters